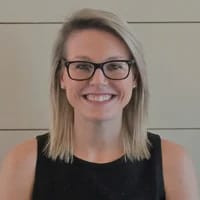 Community Manager
Kara joined the HHHunt Family in February 2015 and never looked back. She graduated from Charleston Southern in 2010 with her bachelor's degree in Biology and dove into the finance world for seven years. She began her journey at Abberly Crossing in Ladson, SC and moved to Greenville to start a new chapter with HHHunt. Kara is very excited to see what Greenville has to offer! In her spare time, she loves to spend time outside and playing with her puppy Kalli!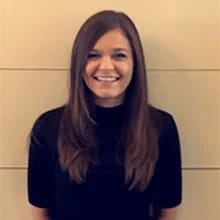 Assistant Community Manager
Haley started her career with HHHunt in November of 2017 with our sister property, Abberly Village, in West Columbia, South Carolina. In August 2019 she moved back home to the upstate and is excited to be near family and to be part of the Abberly Market Point Team! Haley graduated from the University of South Carolina in 2008 with a degree in Psychology. She worked as a paralegal and has been in customer service for over ten years. In her free time, Haley loves hiking, enjoying nature, and connecting with her loved ones.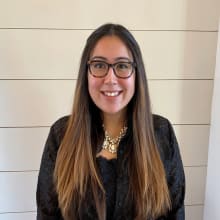 Leasing Consultant
Elizabeth, a native of Long Island, New York, joined the Abberly Market Point team as a Leasing Consultant in February 2020. She has been traveling and working in Customer Service and Sales since 2014 and is thrilled to be part of the HHHunt family and to call Greenville, South Carolina home! In her spare time, Elizabeth enjoys cheering on her favorite team, the New York Rangers, and cooking for loved ones.
Leasing Consultant
China joined the Abberly Market Point Team as a Leasing Consultant in October 2022. She is a graduate student at Clemson University obtaining her master's degree in business administration and is excited to be part of our team! In her spare time, she enjoys traveling, trying new restaurants, and spending time with family and friends. She is also great at origami!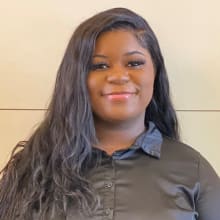 Service Manager
Richard joined HHHunt in November 2017 and has been a great addition to the team. Richard has multiple skill sets that are very beneficial as an HHHunt service team provider. His experience includes twelve years in the Property Managements industry, eight years in automotive manufacturing and two years in the IT related field. Richard lives in Taylors and spends his spare time restoring an old home or volunteering in his community and relaxing with family or friends.
Service Technician
Patrick, a native of Washington state, joined HHHunt in December 2020. He brings to Abberly Market Point a wide array of skills from several different areas of the maintenance industry, including four years in residential electrical, two years in warehouse facilities maintenance, and one year in commercial aviation maintenance. Patrick lives in Greenville and spends his free time bicycling, discovering new hiking trails, and playing with his Australian shepherd, Anora.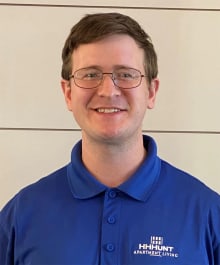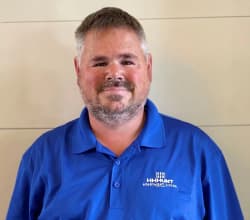 Groundskeeper
Keith joined HHHunt as a Groundskeeper in May 2020 and is excited to be part of our team at Abberly Market Point. He has an extensive background working in security and corrections, a career he began in 2005. Keith moved to the upstate in 2015 from Lexington, SC and currently lives in Laurens. He is married and has a son. In his spare time Keith enjoys watching sports, especially football and baseball, outdoor activities, keeping up with current events, going to the beach, traveling, and spending time with family.
Testimonials
Love every aspect about living here!
We love it here- the property is beautifully maintained, tenants are super respectful especially when it comes to pet courtesies, and the amenities are great. Everyone is super nice and helpful!
We appreciate your quick attention to our requests and have always been grateful finding our first "home" here in Greenville.
The Management is top rate and always responds to any request, the Complex is awesome and well kept and the Maintenance team is the best
This is the best apartment I have EVER lived in.
Patrick was quick and explained what may have occurred, how he fixed it, and let me know I could follow up with him as needed. It was wonderful!
Patrick did a quick and efficient repair. Done within two hours of the request. He left great communication about what repairs were done as well. He has been the one who has done most of my repairs and he is always fantastic.
Richard was courteous, quick, and empathetic to my very hot apartment. I'm so thankful for Richard being able to address my maintenance issues with such knowledge and care!
Our maintenance team members, Patrick and Richard, were so very helpful and attentive to this undesirable situation of a bathroom leak. They were very timely in the response and I really appreciate them!
The Management Team is involved in all our lives. They helped me when I was traveling with everything from accepting a important package to helping me navigate the resident portal while I was out of the country in order to pay my rent. Understanding, professional, smiling and truly involved in the experience at Abberly.
I've lived here for a little over a year and from start to finish the team at Abberly Market Point helped make finding an apartment seem like an easy decision. Elizabeth made me confident I was choosing the right place, and I have not been disappointed since. It's an amazing value and the amenities are very well kept. The management staff and maintenance are quick to answer, and take care of any issues. Even two years later, I'm happy I chose to live here.
I've lived here for a year and a half now and couldn't be happier. It's a quality building with quality staff.
My experience living at Abberly Market Point was outstanding! The apartment was centrally located to everything and the staff was always friendly and responsive! Loved the garage and the floor plan. Definitely was a great place to live!
I'm leaving this review to recognize one of your staff members in the clubhouse, Haley Wines! She is just amazing! She is always so kind and genuine. Anytime we need anything we truly hope Haley is the one answering the phone when we call. She is a huge asset to the community and always makes us feel like we're right at home.
The staff here is more than helpful and fulfill all expectations. The go above and beyond to make it feel like a community. I would highly recommend giving this place a try, you won't be disappointed!